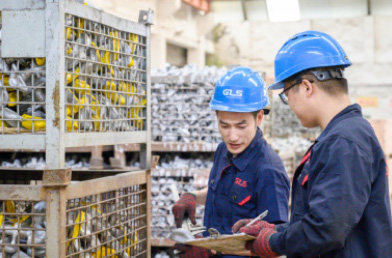 General Lashing System CO., LTD. (GLS)
Ningbo General Lashing System Co., Ltd. (GLS) was founded in 1998, is a global service provider of container corner fittings, specializing in the overall design of the container securing and lashing solutions, production and self-sales of lashing materials.
Guided by the experience of the past 23 years, we have always been customer-centric and committed to providing more advanced design , the best quality products and more efficient service for the container parts industry.
Our company has own independent production plant. The factory has been built to high standards since the beginning of its establishment and has advanced manufacturing technology and craftsmanship for container lashing products. The comprehensive and high-level supporting supply chain system can provide extremely competitive prices and punctual product supply.
Our company has a professional quality management team and complete quality control procedures. The factory has passed the ISO9001-2015/ISO4001-2015/ ISO45001-2018 system certification issued by BV. GLS has always been at the forefront of normalized, standardized and scientific modern enterprise management.
With the vigorous development of the shipping industry, GLS's high-level technical team has continuously upgraded product performance, and has always insisted on providing customers with industry benchmark products that are both innovative and safe. All of our company's products have been certified by various classification societies around the world.
Through conscientious exploration, GLS will continue to strictly implement the quality management system and to improve the effectiveness of the system's operation. We will work hard to raise the work of the enterprise managemen.